Tile Flooring in Vernon, CT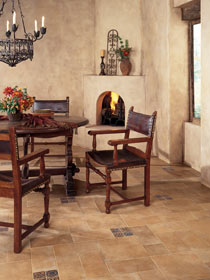 Explore our inventory of tile flooring to find the options that best serve your needs. Our team members are extremely knowledgeable about all of our products. Whether you want slate, ceramic or porcelain tile, we can help you find your perfect flooring match. We work with you and can explain the benefits of each material, allowing you to get a final product that is not only stylish, but also functional for your lifestyle. We have many different colors, textures, materials and sizes, so your options are virtually limitless. And with brands like Design Distinctions™ and Floorcraft™, you know whatever you choose is a high-quality product.
Update your home or office with the beauty of new tile floors. From ceramic tile to majestic slate, our showroom has the right products to make your property a more refined and beautiful space. Tile is an investment in the aesthetic appeal and functionality of your property. It has long been trusted for its durability and stylishness. Each of our tile types incorporates a hard, non-porous surface that resists water and staining with ease.
Tile is a smart investment for many high-traffic areas. It is also a sensible flooring option for rooms that encounter a lot of moisture, including bathrooms and kitchens. Whether you are remodeling one room or your entire property, we have the products you need to realize your next flooring project.
Great Selection of Stylish & Durable Tile
Strength, artistry and everyday dependability define the styles of tile we have in our collections. This flooring option is a great choice for both indoor and outdoor areas. At our showroom, we make a point to unify great variety with personalized service. Our associates are more than happy to show you samples of the latest products from well-known manufacturers. In fact, the extensive buying power of our company allows us to sell a vast selection of ceramic, porcelain and slate tile options at great savings to you.
Customize your space with new tile floors. You deserve to have a property that reflects your unique personality. Diversify the scenery in your favorite rooms with tile flooring. Our tile products are all available in different sizes, colors, and styles. This affords the opportunity to explore your creative abilities. Create dazzling patterns and tessellations with our selection of tile. From traditional aesthetics to modern chic, your options are limited only by your imagination. As always, our sales representatives will be more than happy to help create designs that improve the look and value of your property.
In addition, tile flooring is easy to repair and long lasting. The selections at our showroom rotate frequently to offer our customers the great creative potential of our products. Our inventory is carefully selected, so you can expect great value with every visit. The brands we carry each have a longstanding history for quality and craftsmanship. Our sales associates listen to your design goals to direct you to products that best suit your needs. Choose from a wide selection of brands, including:
Downs ™
Naturcor ™
PURstone ™
Each type of tile we have in stock has different advantages. Our professionals are happy to explain what these features are so you can get flooring that is well-suited for your specific lifestyle. Our ceramic tile, for instance, is extremely easy to clean and maintain. The coating of ceramic makes it non-porous so water, other liquids, dirt, and debris sit on the surface and are easily wiped away. Ceramic is also beneficial for people who suffer from allergies because all the dust, dirt, and other allergies are kept well under control with periodic cleaning.
Match your new floors to your personal style by consulting with one of our specialists. Our porcelain tile comes in a wide range of styles and even mimics hardwood, marble, or granite. In addition to variety, porcelain is naturally wear-resistant and able to stand up to a lot of foot traffic without scratching or scuffing. This means the beauty of your floors—inside or out—will last longer with less maintenance.
If you are looking for a unique look that holds up under heavy foot traffic, slate tile is for you. This material is commonly used outdoors because of its durability; but it also looks great indoors. It has natural appeal that is hard to capture with other materials. There are various earthy colors available so you can better match your current décor. Because slate is so strong, you can keep its natural beauty for longer without expensive repairs.
Tile Flooring Installation Professionals You Can Count On
Once you have chosen the type of tile you want in your home, trust our installation experts to provide reliable services. When you get tile installed, it is important that the contractors use the appropriate methods and have the proper eye for detail. This not only allows you to get more beautiful floors, but also more durable floors.
Our tile flooring installation experts are part of a team that works with you from the start of your project until the end. Since we stay involved throughout the duration of your tiling experience we are able to completely understand your goals and requirements. This allows you the best opportunity to enjoy floors that you'll love for years to come. On top of that, many of our tile products are covered by our Ultimate Confidence Guarantee. For example, if you aren't satisfied after living on your 4-Star or 5-Star rated floors for 30 days, we will replace it at no additional cost to you.

Contact us today to learn about our large selection of tile flooring. We proudly serve customers in Vernon, Connecticut.