Your Source for Wood Look Tile in Vernon, CT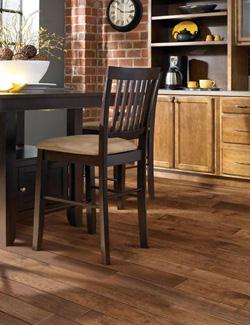 There's no denying that genuine wood flooring looks great in any home. However, there are some areas of the house that simply aren't suitable for hardwood. Due to wood's natural absorbency, it is ill-suited to rooms that are frequently exposed to liquids and humidity. Fortunately, there is an alternative that gives you the appearance and value of hardwood without the moisture concerns: wood look tile.
While many people assume tile always resembles stone, this is not the case. Thanks to modern manufacturing innovations, tile can be made to mimic both the appearance and texture of natural wood. Whether you prefer oak, maple, cherry, walnut, or another wood species entirely, there is a tile alternative for you. Schneider's Flooring America is proud to be your source for wood look tile in Vernon, CT. Talk to our sales associates today for help finding the ideal surface for your construction or renovation project.
Perfect for Any Room
Tile offers a wide range of benefits that make it perfect for any room of the house. First, it is water resistant and does not swell and contract when exposed to moisture. That makes wood plank porcelain tile and ceramic tile well-suited for:
Kitchens
Bathrooms
Basements
Laundry Rooms
Entryways
Patios
Next, tile is easy to keep clean. Can you sweep and mop? Then you'll have no problem keeping your tile surface looking great on a day to day basis. With a little extra maintenance like grout cleaning, your tile floor will look like new even decades after installation. To get complete care instructions specific to your chosen brand, consult with our store staff.
Homeowners also appreciate the cooling and heating benefits of wood plank ceramic tile and porcelain tile. Tile stays cool in the summer more easily than other flooring options, making your rooms noticeably more comfortable during the hottest days of the year. Furthermore, tile is well-suit for radiant heating, allowing you to enjoy a foot-friendly temperature even on below-freezing nights. Talk to our sales associates to learn more about the many advantages of choosing tile.
Installers You Can Trust
When you invest in new flooring, you want to ensure it is installed correctly. Our store's installers are trained to work with every product we sell, including our ceramic and porcelain wood tile options. We pay careful attention to detail to ensure all product warranty standards are followed. Furthermore, we work quickly so your room will be ready to show off in no time.

Contact us for further information on our popular wood-alternative surfaces. We're proud to serve clients from throughout Vernon, South Windsor, Ellington, Tolland, and Manchester, Connecticut, as well as the surrounding areas.