Cabinets in Vernon, CT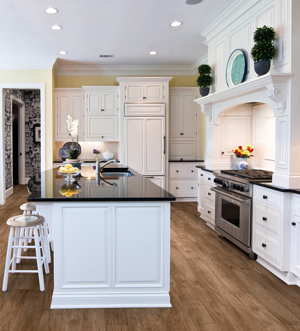 Remodel your home the practical way by adding stylish cabinets in Vernon, CT, to the kitchen and bathroom. Come into our showroom to see a wonderful selection of brand-name models and vanities for kitchens and bathrooms. Our sales and design professionals are here to help you find exactly what you need. Once you have made your choices, we schedule an appointment for professional cabinet installation. A team of our installers comes to your home to assemble and hang your cabinets for a perfect fit and lasting beauty.
Kitchen cabinets serve as a necessary design element. You need plenty of storage space to put food, cookware, dishes, appliances, and gadgets. For help in selecting the perfect model, make an appointment for a free, in-home design consultation. Our cabinet specialists come to your home to assess your needs, take measurements, and make helpful recommendations. This ensures you receive just what you need regarding performance and aesthetic. We have the experiences and resources to fit any room and match any taste.
Today's cabinets are designed to provide you with maximum efficiency. Not only do they offer lots of room inside, but they also give you innovative features for specialized storage. We offer cabinet designs in a number of stylish options that are sure to please even the most selective homeowner. Wood cabinets with fine finishes and appealing hardware take your kitchen from functional to fabulous. While our professionals are at your home, we can help you match your new cabinets to the flooring and countertops, providing polish and appeal.
Bathroom Vanities and Custom Cabinet Benefits
Bathrooms are specialty spaces with many functional and fashionable demands. In addition to the basic fixtures, such as a bathtub, shower, toilet, and sink, your bathroom also needs storage for towels, toiletries, and grooming products, as well as cleaning tools. Finding a place for everything can be tough, especially if your bathroom is a shared one. Let us assist you in making the most of this space by adding one of our beautiful bathroom vanities. Your vanity will have space for a faucet and sink, as well as drawers and cabinets to store grooming and cleaning products both efficiently and attractively.
Selecting a vanity is an important part of the process because it serves as the focal point of the room. We help you choose one that is big enough to serve your needs, yet not so large that it appears overwhelming. Our qualified crew takes your decorating scheme into mind when providing advice for your new vanity. We aim to make it tie in so perfectly with everything else that your bathroom looks as though the vanity has always been there. Your guests will love it and so will you every time you walk inside to use it.
The perfect complement to your vanity is a new cabinet. We offer a wide selection of brand-name kitchen and bathroom cabinets in our showroom. Choose either stock or custom cabinets. Stock cabinets are made to meet standard specifications and sizes, while custom incorporates your special needs. Choose custom cabinets when you want certain sizes, hardware, or features. Custom ensures that your cabinets are built especially for you, according to your design preferences. Have an unusual floor plan? Need the cabinet at a certain height? Want shelves and sections inside? This is the renovation option for you. Custom means no settling; your cabinet is yours with your style written into every aspect of its design.
Why Buy From Us?
For extra security and aesthetic, we sell cabinets from trusted brands that homeowners already love. Among the brand name products we carry are well-made selections from Brighton, Dura Supreme, and Norcraft. Dura Supreme is well-known for quality craftsmanship and limited lifetime warranties. Norcraft offers modern designs and beautiful artistry that work well in any home. If you're unsure which would work best in your space, feel free to ask. Our designers can answer all of your questions and make recommendations to achieve your interior design goals.
We're not just here to sell you something; we set you up with qualified, trusted cabinet installation service. Whether you bought stock or custom, we place them where you want them and how you want them. Our team brings all of the necessary equipment and tools when they arrive—on time and ready to go. They work as quickly as possible without forgoing quality and correctness, so you and your family are not disturbed any longer than necessary. Once we finish, your cabinets or vanity will be all set for you to begin storing everything you need.
Skimping on installation is often asking for trouble. Any home renovation that is poorly done can cause problems later, and they aren't always fixable. This could lead to limited options with expensive solutions, and we want to save you from that. Hire us right away, and you'll get an installation crew that knows these products and how to put them in properly. We do the hard work and stay up to date on installation methods and techniques, and you get to enjoy the cabinets or vanity for years when all is said and done.

Contact us for cabinet service you can count on. We install our products in the homes of Vernon, South Windsor, Ellington, Tolland, and Manchester, Connecticut, and the nearby communities.