Hardwood Flooring in Vernon, CT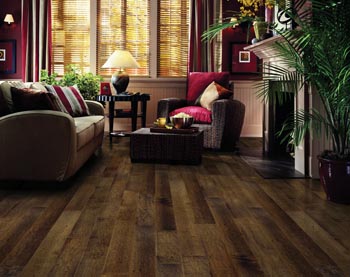 Choose flooring that combines classic beauty with natural durability to enhance the look of your home. When you have hardwood flooring installed in a space, you instantly upgrade the value and appearance of your home. Our store has all types of high-quality wood flooring for sale, including engineered, solid, and handscraped hardwood. By turning to us, you'll be able to reimagine the interior designs of your home or business. Our products are just what you need to update your floors.
The main advantages of hardwood floors are beauty, affordability, and durability. A properly installed wood floor can last a lifetime, and keep your house looking great. The fastest way to turn a dull house into a beautiful home is with new floors. Stop by our stocked warehouse showroom to get a tour of our many hardwood flooring options. As far as brands, we carry some of the industry's most recognized names. The manufacturers our store carries were chosen because they create top quality products. Some of the brands we offer include:
Downs™
Bedford Mills™
Design Destinctions™
HomeCraft™
Mohawk™
Mannington™
Engineered Hardwood vs. Solid Hardwood
When considering hardwood flooring, there are two options from which to choose. Solid hardwood is milled from a single piece of harvested hardwood. It is the classic choice of flooring and allows for more flexibility in style. It also allows for easier repairs and more refinishing, extending the expected lifetime of your floor. However, solid hardwood will naturally expand and contract in response to changes in humidity. To accommodate this, expansion gaps need to be created between the flooring and the walls.
For rooms where humidity is expected to be high, engineered wood is a great alternative. This option is produced by bonding several layers of harvested hardwood into a single board. This reduces the natural tendency toward expansion while maintaining that eye-catching hardwood look. Let our hardwood flooring installation experts help you choose the hardwood type that's right for you!
Transform Your Floors with Engineered Hardwood
If you are looking for hardwood that can be put in any area, consider engineered. We carry a variety of options to match any desired look you have in mind. Our products come in several colors, grain types, and styles, so we know we have an item that is perfect for you. Work with our sales team to discover the right product to use when completing your home renovation project.
This option is also one of the best investment values you can make in your house. It is a home improvement that is sure to catch the eyes of potential home buyers. A beautiful wood floor is a price signal to the market that the rest of your house will have the same commitment to quality and elegance.
Solid Hardwood – A Versatile Flooring Choice
If you aren't a fan of engineered hardwood, and want to use an option that is natural, give solid hardwood a try. With solid, every inch of your floor will feature genuine hardwood and nothing else. It is an excellent choice if you want to be able to refinish your floors differently throughout the years. Solid wood floors can be sanded, manipulated, and refinished many times. This way, you can achieve newer looks whenever you want.
This flooring surface choice can also add structural support to your home, especially if it is built on subfloors made of wood. You can use this as a selling point when putting your house up for sale. Homebuyers love features that they can make their own.
Fitting in with Any Style – Handscraped Hardwood
Another stunning flooring choice we have available is handscraped hardwood. Like our other options, this surface material comes in a wide assortment of sizes and designs. You can use our products to enhance your personal style. It doesn't matter if you like natural or contemporary looks, handscraped flooring fits in with either.
No matter what style you decide on, the flooring will feature those distinctive scrape marks that handscraped wood is known for. Many of our customers love this unique feature. It adds a rustic look to any room, which makes it perfect for cabin floors.
Professional Hardwood Flooring Installation
Installing a hardwood floor with our installers brings with it significant savings in time and labor costs. Not only is it easy to install, but hardwood flooring is simple to maintain as well. It is the healthy choice for homes with pets or for those with allergens. Lacking fibers and grout lines, hardwood doesn't trap pollens, allergens, and pet dander.
The savings in maintenance are also tangible. Hardwood doesn't require constant vacuuming. A daily sweep and regular mopping will keep these floors in shape, and scheduled polishing will keep your floor looking brand new. Give our hardwood flooring installation team a call today, so we can get started on your project. We'll complete your home renovation job in no time.

Contact us today to update the floors in your home with our engineered, solid, and hardscaped hardwood. We are proud to serve customers in Vernon, South Windsor, Ellington, Tolland, and Manchester, CT.